Manga

1950. "Janguru Taitei" manga was originally published in monthly comic magazine "Manga Shonen" in Japan, which was published by Gakudosha. The manga was later republished in 3 volumes by Kodansha.The manga started in the November 1950's issue, and ended in April 1954's issue.

1977. "Janguru Taitei" manga was republished in 3 volumes in Japan by Kodansha. All 3 volumes were released between June and August 1977.
1986. Manga "Kimba il leone bianco" was published in 3 volumes in Italy by Comic Art. The first volume had 160 pages, and it was published in February. Each volume costed 7.000 italian liras. This manga has been republished by Comic Art in 1998.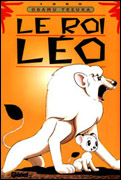 1996. Manga "Le roi Leo" was published in 3 volumes in France by Glénat.
2001. Since May 2001 in Germany are released all three volumes of the german version of the original "Kimba the white lion" manga, and they are published by Carlsen Comics. It is possible to order all of them online on this web page.

Manga